Review of ZQuiet: "Perfect!"
ZQuiet Review
In our team's search for snoring mouthpieces that fit our needs, we went through quite a few different ones. Although there were some good pieces, none seemed to satisfy all our needs completely.
After trying ZQuiet, we were able to conclude that it's one of the best mouthpieces we've experienced so far. A bonus to this product is its excellent price.
In case using ZQuiet doesn't provide you with comfort and the snoring reduction you were looking for, we recommend SnoreRx. This is a different mouthpiece that uses a molding process for calibration, which maximizes security and snoring reduction.
Just like with every product, there are both upsides and downsides to using ZQuiet. When making your final decision, you should be aware of both. Here are some of the things we liked and some of the things we didn't:
Benefits
The soft material is medical grade and doesn't contain BPA or latex so it won't cause any irritation.
ZQuiet employs a Living Hinge Technology, giving it great flexibility. This allows for mouth movement and speaking during use.
Quality airflow during sleep for mouth breathers is made possible by airflow ports, which keep your mouth slightly open.
You receive a pair of ZQuiet pieces, so if one doesn't get the job done, you can try the second one. The second one provides a slightly further forward jaw extension.
Keeping it clean is not a problem, as using a toothbrush and some regular dish soap suffices.
For a small fee that covers the price of shipping, you can try the product for 30 days. You are only charged if you do not return it during that time.
There is no fitting required.
The material allows for trimming and filing to fit if needed.
Labeled by the FDA as a class 2 medical device.
Drawbacks
If you suffer from periodontal disease or wear dentures, you are not advised to use the product.
There is only one size. Even though the material can be trimmed, being too small for the user cannot be corrected.
Users who are unaccustomed to using an oral device might experience some jaw soreness.
After reading some other reviews online, we found some people to be dissatisfied with the lifespan of the piece.
Shipping charges are not refunded if you return the product.
Not Your Average Mouthpiece
After trying many different snoring mouthpieces, our team started noticing a pattern to the way they were designed. Despite some devices being soft and pliable, all of them hold the mandible strictly stationary in a forward position. As a result, talking with them installed is not possible.
Holding the mandible in one position is part of the idea behind these mouthpieces, which are also known as mandibular advancement devices, or MADs. The idea is to prevent the sagging of the tongue toward the throat by moving the mandible forward. We tried many mouthpieces with the same concept and were nearly convinced that an effective mouthpiece and an immobile lower jaw went hand-in-hand. Due to that assumption, our first encounter with ZQuiet was naturally met with some doubt.
As soon as we got to try one, our team noticed a considerable difference in the flexibility and softness this mouthpiece provided. This significant upgrade in mobility is due to a special feature called Living Hinge Technology. While ZQuiet applies the same method to reduce snoring – securing the lower jaw in a forward position – the big difference here is that the device also gives you the freedom to talk or even drink water! We were skeptical, yet excited about this little bonus.
Even though the material was soft and flexible, it was still able to do its job and keep the mandible forward during sleep. It was somewhat puzzling as to how these features could coexist. Things became clearer when we found more information about what ZQuiet was made of.
The primary material used is a thermoplastic elastomer, which is cleared by the United States Food and Drug Administration. If you are allergic to latex or acrylics, ZQuiet doesn't have either. Manufacturing is all done in the U.S., and the Better Business Bureau accredits the company. Combining this soft flexible material with its sleek design makes it more comfortable than other pieces we've tried.
Some people might also find the airflow posts quite useful. They prevent a complete closure of your mouth, which can potentially block airflow during sleep. This avoids difficulties for people who may suffer from nasal obstructions.
Purchasing and Using for the First Time
When our team decided it was time to order ZQuiet, we visited the site and were pleasantly surprised to find that we would receive two mouthpieces for the price of one. Providing buyers with two mouthpieces allows users to try two different levels of lower jaw advancement. Since ZQuiet doesn't employ a fitting process like some of the other mouthpieces, having an extra one with a different size is both beneficial and necessary.
We were informed by the company that, upon arrival and unboxing, the product would be ready for use. We were very excited about a product with so many features and bonuses, which required minimum effort to get started.
When our packages arrived and were unboxed, we used regular dish soap and warm water to clean and prepare them. As we were doing this, there was a moment of skepticism with regards to ZQuiet. This was sparked by the increasingly softer texture of the mouthpiece caused, presumably, by the warm water. We were already expecting that a bad review might come out of it, but we held out hope.
Before putting them in, we noticed how soft and smooth the material was. Once we put them on, we unanimously agreed on the high level of comfort they provided. Talking while wearing ZQuiet wasn't an issue. In contrast to some of the other devices we tried, this one didn't cause any of us to drool.
A slight adjustment needed to be made to one of our team's mouthpieces. We used regular scissors for the trim and finished it off with a file. If this happens to you, the company provides directions on how to handle the situation. At this point, we were ready to test ZQuiet during a night's sleep.
During our testing, someone on our team had to get up at around 2 a.m. He noted that, despite waking up at an odd time, he felt rested – as if he had just gotten a full night's rest. He found that his and everyone else's mouthpieces were still in place, and anyone else still sleeping seemed to be in a deep sleep with no signs of waking up. He noticed some faint snoring sounds from others on the team, which paled in comparison to the sounds they usually make.
The Next Day
At 7 a.m., we woke up and got ready for work. We looked at each other with amazement, as the mouthpieces hadn't fallen out during the night. In addition, we all felt very well rested. We did encounter some soreness, but it was much milder compared to some of the other devices we have tried.
Our early waker told us about the faint snoring he heard from others on our team. We decided to test the other mouthpiece on them on the next testing night. We figured that the slightly more forward lower jaw extension might be beneficial for them. Regardless of the mild snoring they did, those who did snore that night felt well rested and ready for the day.
The trial for using ZQuiet was supposed to last two weeks. That period turned into a more permanent one for some of us, as we just could not get enough of it. Each time we woke up after using it, we felt our sleep had improved. Although we tried some other devices, coming back to this one felt most natural. In terms of comfort, snoring reduction, and overall quality of rest, ZQuiet was the clear winner.
Who Can Use ZQuiet?
The uniqueness of ZQuiet lies in the way it is made. Other devices we tried felt plastic, rigid, and almost invasive when it came to locking our jaws into place. This is where ZQuiet was different. The design allows for greater flexibility and comfort. The soft material does not agitate the gums and is much more compact than other mouthpieces. So, if you are fond of minimally invasive snoring devices, this one certainly fulfills this requirement.
People who suffer from seasonal or chronic nasal congestions may also find benefit in ZQuiet's design. The airflow holes allow you to use it throughout the year. Some on our team suffer from seasonal allergies, and they feel like they can still use this piece. Devices like the Good Morning Snore Solution, for example, do not allow for mouth breathing.
Who Should Avoid ZQuiet
ZQuiet (and MADs in general) are held into place mainly by your teeth and partially by your gums. This means that people who wear dentures may find this mouthpiece unsuitable for their purposes. People who suffer from periodontitis or wear other types of dental prosthetics may need to consult their dentist before trying Zquiet.
A viable replacement option might be the Good Morning Snore Solution. The main difference is that it does not sit inside your mouth. Instead of stabilizing the jaw, it holds the tongue in place and keeps it from falling back into the back of the mouth.
What About the Price?
Receiving two devices for the price of one is always a bonus. Priced at $79.95, getting ZQuiet is a great investment. Keep in mind that you only need to pay the $19 shipping charge to go for a 30-day trial. In case you like it, you will be charged the $79.95 on the 35th day. If you end up unsatisfied with the product, you can ship it back and avoid additional charges.
Rating
Effectiveness: 4.7
Comfort: 4.9
Easy to clean: 4.5
Price (Value): 4.6
Durability: 4.6
Easy to Breathe: 5
Company Reputation: 5
Summary
ZQuiet is effective in terms of reducing snoring. Comfort while wearing it is provided by its excellent design and soft texture. Two mouthpieces for the price of one ($79.95) make this product a bargain. In addition, you can try it for 30 days. Overall, we were very happy with ZQuiet, and we can happily recommend it to anyone with snoring issues.
Our Verdict
Some on our team have not stopped wearing ZQuiet since we first tried it. There were short periods dedicated to testing other mouthpieces, but we always came back to this one. We are still waiting for allergy season to fully test the airflow ducts.
We experienced some jaw soreness when we first started using it, but this seems to be normal for most users. A few days later we had adapted seamlessly to the device.
The material is soft, high quality, and easy to clean. People who wear dentures might find this product is not suited to them. Others who may suffer from periodontal disease or have other prosthetics (crowns and bridges) should check with their dentist before using ZQuiet.
Our team is happy to have found a mouthpiece that fulfills most of our requirements. The price is good, but in case you are still skeptical, the 30-day trial might help to sway your opinion. We heartily recommend ZQuiet, and many on our team have expressed a desire to keep using it, which should speak to the quality and effectiveness of this device.
ZQuiet Product Videos & Testimonials:
About ZQuiet – Best Snoring Mouthpiece
ZQuiet users, Robbin and Rick Smith, share how the ZQuiet anti snoring device has improved the quality of their sleep and their lives!
ZQuiet Product Specs: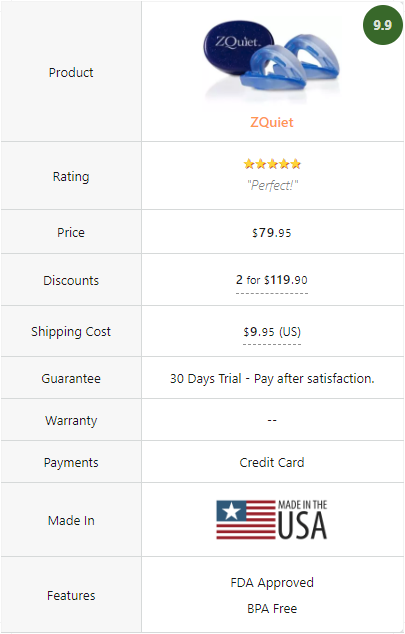 ZQuiet Best Features: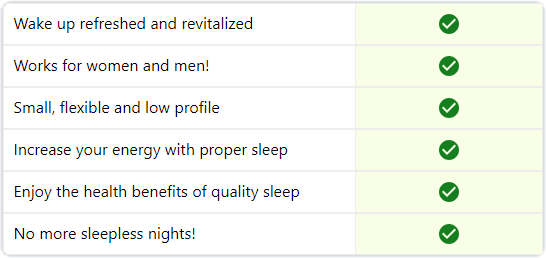 ZQuiet Discount Coupon:
$10 OFF Coupon: SDVC10
Good Morning Snore Solution
About SnoreRx – Best Snoring Mouthpiece
Stop Snoring, Start Living – Good Morning Snore Solution
How the ZQuiet Mouthpiece Works
Our advisors have thoroughly tested over 40 anti-snoring products, and gathered over 100,000 customer reviews. This website features our top recommendations, with products offering various approaches to solving snoring issues, at a range of prices. All products are:
Effective at Snoring prevention
FDA Approved & Safe to use
Provide 100% Satisfaction Guarantees
Have Great Customer Satisfaction Scores