Review of SnoreRx: "Best-In-Class"
 While most mandibular advancement devices (MADs) provide some relief, they aren't without their disadvantages. So, we were really excited to try out the SnoreRX for its additional features and value.
Overall, we found the SnoreRX to have a considerable number of benefits over other MADs, including, superior comfort, high-quality construction, and above all, it is amazingly effective.  It is also fantastic value for money, and as of August 2018, SnoreRX is available for only $99. We recommend SnoreRX to anyone who suffers from snoring.
How does SnoreRX Work?
Most snoring occurs because the soft tissue of the mouth and throat relaxes while you sleep, causing an obstruction that prevents air from flowing freely and causing vibrations.
SnoreRX is a non-prescription mandibular device, which means there is no need for it to be molded and shaped by a dentist.  A mandibular advancement device pulls the lower jaw forward and immobilizes it while you sleep to open the airway, eliminating the tissue vibrations that cause snoring. Pressure is also placed on the tongue and tissue in the lower jaw to further prevent soft-tissue collapse throughout the night.
Advantages of SnoreRX
The calibrator can be adjusted to ten different settings in one-millimeter increments and is easy to read.
Posi-Lock memory feature keeps your selected settings even after taking it apart for cleaning.
V-Flow air flow feature is ideal for mouth breathing snorers or people with nasal problems as it allows you to breathe freely through your mouth while sleeping.
Boil-and-bite dental impression gives you a comfortable fit and can be repeated up to three times to achieve a customized fit.
The product is made in the USA with only high medical-grade materials and is free of BPA, latex, and acrylic to avoid irritation and allergies.
Product designed without metal or bands for minimal torsion and pressure.
FDA-approved.
American Academy of Sleep Medicine (AMASS) certified.
A long lifespan up to 15 months.
Peace of mind with a 30-day money back guarantee.
Disadvantages of SnoreRX
Longer cleaning time due to the complexity of the product design.
Cannot be worn by individuals with dentures or recent dental implants.
Individuals may initially experience drooling or slight discomfort.
How is SnoreRX Different from Other MADs?
Easy Customization
SnoreRX gives you the custom fit of an expensive dental device for an over-the-counter price tag. The "boil and bite" feature and the thermal matrix construction allows you to shape the device to the unique contours of your mouth for the most comfortable wearing experience.
Best of all, you can repeat this process up to three times to achieve the best fit possible, a feature that other "boil and bite" devices don't offer. This allows you to achieve the same custom fit that you would usually find in expensive dental devices.
Precision Calibration
The most impressive feature of SnoreRX is the additional customization achieved by the precise calibration mechanism that allows you to adjust your jaw position to find the best balance between comfort and effectiveness.
Most other MADs have no adjustments available for your jaw position or a very limited range. But, the SnoreRX calibrator has ten different settings spaced one millimeter apart, giving you the biggest range of jaw positions of any MAD on the market. And, adjusting the calibrator couldn't be simpler. Just squeeze the mechanism gently, and the calibrator slides into place.  
Posi-Lock Memory
Once you have selected your preferred setting, SnoreRX's specialized Posi-Lock memory, locks in the setting and keeps it secure until you want to change it. It even holds your preferred settings in place after you have taken the device apart to clean it. And, unlike most MADs, SnoreRX can be easily reset at any time for the most comfortable fit.
Free Air Flow
One of the issues that often comes up with MADs is that they are unsuitable for mouth breathing snorers or individuals with nasal obstructions because the design of the device further obstructs the flow of air. SnoreRX, however, offers their special V-flow technology and an open front which allows the air to flow freely through the device all night long for better oxygen intake and reduced tissue vibration.
Trustworthy
When we test out anti-snoring devices, one of the biggest things we look for is that you can trust the product's effectiveness. SnoreRX has achieved FDA approved and is also certified by the American Academy of Sleep Medicine (AASM), so we knew it was going to be a safe and high-quality product.
SnoreRX also has many positive reviews on reliable third-party websites and by trusted organizations such as the American Sleep Association.
High-Quality Construction
Unlike other anti-snoring devices such as nasal strips or chin straps, MADs are used internally for long periods of time, so we always like to make sure any MADs we test are constructed from materials that are safe and hypoallergenic.
SnoreRX is constructed from high medical-grade material that is free from BPA, latex, and acrylics to prevent allergic reactions and promote dental hygiene. All materials are sourced in the USA, and the product itself is designed, engineered and manufactured here in the USA so you can be assured of its high-quality.
SnoreRX, unlike other dental devices, does not have any metal parts of rubber bands to create excess torsion or pressure on the jaw which means you always have a comfortable night's sleep.
Value for Money
MADs vary hugely in price from your basic model for around $20 to custom dental devices that can cost thousands of dollars. What makes SnoreRX different from other MADs on the market is that you get the custom comfort offered by expensive dental appliances for a reasonable price.
SnoreRX usually costs around $129, however, they are currently offering the product for only $99, which is a great deal considering the quality and effectiveness of the device, and you can also purchase two SnoreRX devices for only $154.
What's more, SnoreRX offers a 30-day money back guarantee if you are totally convinced the product is for you. You don't even need to have the product back within 30-days, just make sure the package is postmarked from the 30th day when you return it, so you have the full 30 days to try the device.
SnoreRX ships internationally to over 30 different countries for a moderate shipping and handling price of $14.95 for two devices, so no matter where is the world you are your can try out SnoreRX for yourself.
Longer Lifespan
But, what makes the price tag truly remarkable is when you consider the lifespan of SnoreRX. Most MADs have a typical lifespan of 6 – 8 months depending on how well you clean and maintain the device. The lifespan of SnoreRX is two times that long as it can last up to 15 months if you follow the manufacturer's instructions and clean it every day.
Our Experience
Since we want to test the product thoroughly, we decided to try SnoreRX on multiple test subjects, so we took advantage of their special multiple-product discount offer and ordered one for each of us, so we could get a better idea of how it affects different snorers.
The products arrived quickly, and the instructions that came in the package were clear and easy to follow. We placed the new SnoreRX straight out of the package into freshly boiled water for 90 seconds, cooled it down for a few seconds in cold water and then placed it in our mouth to create the dental impression. It really couldn't be easier. Some of us had to repeat the step a second time or third time to achieve the best fit, but it still created a perfect dental impression even after boiling again.
To properly compare the SnoreRX with other MADs, we decided to track our sleep and snoring with a snore recording app to see how effective SnoreRX was at reducing the volume of our snores. We were pleasantly surprised that even after only one night with SnoreRX, the sound of our snores were dramatically reduced. You can see the results of the first night wearing SnoreRX below.

As you can see from the graphic, the intensity of the snores was moderate to loud on the night before using SnoreRX. But, after only one night using SnoreRX the volume of the vibrations was drastically reduced to mild to non-existent. And, it is likely that if we make further adjustments to the calibrator to find the best fit, the snoring will stop.
Though, our experience with SnoreRX was overwhelmingly positive; there were a couple of drawbacks.
The following morning, some of us found that our mouths were a little sore, similar to the feeling of wearing braces. This was probably due to the tension from immobilizing the jaw. But, for the next night, we adjusted the calibrator a couple of increments, and we felt much more comfortable, and we still didn't snore.
Some of us also experienced some drooling during the first night, but with regular use, we believe that we will become used to the device and the drooling will stop.
Due to the more complex mechanisms in SnoreRX, there was some additional cleaning that was needed to ensure we got rid of all the bacteria. But honestly, it was a small price to pay for a huge reduction in snoring and a better night's sleep.
We found the best way to clean SnoreRX is with a denture brush that can fit easily between the calibration mechanism and reach any of the other tiny crevices that can often get overlooked when cleaning MADs.
The only other drawback that some customers should be aware of is that SnoreRX shouldn't be used by people who wear dentures or have new dental implants as it can damage both the dental work and the anti-snoring device. But, that didn't have any impact on our experience. You should also not use it as a substitute for a CPAP machine if you have central sleep apnea.
Final Thoughts
Overall, SnoreRX is the best MADs we have tested so far. The results from the initial test were undeniable. We experienced a dramatic reduction in the intensity and frequency of our snoring, and all of us reported having a better night's sleep.
The greatest feature that has other MADs beat is the complete customization. The thermal matrix technology combined with the precise calibrator make this the most comfortable mouthpiece we have ever worn. SnoreRX is ideal for almost anyone but is especially beneficial for mouth snorers or individuals with latex sensitivity or other material allergies.
But, it is not only how effective the product is that makes us love SnoreRX; the price tag for such a high-quality product is unbelievable, especially considering that SnoreRX will last up to three times as long as other MADs, and you have a full 30-days to test it out to see if it is right for you.
Though it did take a little extra time and effort to clean SnoreRX every morning than other MADs because of the added calibration feature, the added cleaning time is definitely worth it for the results that we experienced.
We highly recommend SnoreRX to anyone who suffers from non-pathological snoring. However, if you want to try an alternative to a mandibular advancement device, you could try a tongue retaining device such as Good Morning Snore Solution. Take advantage of the great discount offers they have at the moment and pick up your own SnoreRX and enjoy a better night's sleep.
SnoreRx Product Videos & Testimonials:
About SnoreRx- Best Snoring Mouthpiece
SnoreRx Product Specs:
Adjustable!
Made in the USA!
Custom Impression
Recommended by Doctors
SnoreRx Best Features: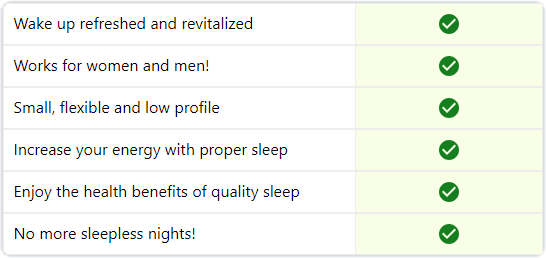 SnoreRx Discount Coupon:
SnoreRx has a COUPON CODE available for 10% OFF your order:   SNOREDEVICES
Use SnoreRx Coupon Code
Good Morning Snore Solution
About SnoreRx – Best Snoring Mouthpiece
Stop Snoring, Start Living – Good Morning Snore Solution
How the ZQuiet Mouthpiece Works
Our advisors have thoroughly tested over 40 anti-snoring products, and gathered over 100,000 customer reviews. This website features our top recommendations, with products offering various approaches to solving snoring issues, at a range of prices. All products are:
Effective at Snoring prevention
FDA Approved & Safe to use
Provide 100% Satisfaction Guarantees
Have Great Customer Satisfaction Scores