Review of Good Morning Snore Solution: "Excellent"
Snoring can create a lot of stress in any relationship, as it not only affects your sleep and general health but also of those around you. If you are looking for a device to help you control your snoring, you really should consider the Good Morning Snore Solution.
We have tried many devices over the years and initially dismissed the Good Morning Snore Solution because it looked like an ineffective anti-snoring device.
However, after noticing the increasing popularity of the Good Morning Snore Solution, we thought it was time to give it a try, so we ordered two devices online for a discounted price.
Why do we snore?
There are many potential causes of snoring, some of which can be reversed. Snoring generally increases with age, and more men report being regular snorers than women.
Snoring occurs when the muscles around the throat and mouth relax and narrow the trachea. This narrowing of the airways causes the soft tissues of the palate to vibrate while breathing. It is this vibration that creates the snoring sound.
Understanding how snoring devices work
Snoring devices are designed to be worn at night to stabilize the jaw, maintain the airways, and prevent the tongue from relaxing into the back of the throat. Some devices need to be individually fitted by your dentist. However, there are numerous devices available that can be purchased without a prescription or a trip to the dentist.
Most are designed to place gentle pressure on the jaw, stopping the airway and tongue from relaxing enough to create the snoring-causing vibrations.
How the Good Morning Snore Solution differs from other snoring devices?
The Good Morning Snore Solution looks different to other devices because it is. Don't let its simple design or appearance put you off trying it out for yourself.
Unlike many other snoring devices available, the Good Morning Snore Solution is a dentist-designed tongue retaining device (TRD) rather than a mandibular advancement device (MAD). A MAD is worn inside the mouth, like a sports mouthguard, and adjusts the position of your jaw while sleeping to help maintain clear airways all through the night, regardless of your sleeping position. This gentle pressure on the jaw can result in feeling uncomfortable.
However, a TRD works by holding just your tongue forward rather than gently pushing the whole jaw forward. This makes these devices the smallest currently available that can provide you with the same result as a MAD.
How does the Good Morning Snore Device work?
The Good Morning Snore Solution has a small suction bulb that attaches to the tip of your tongue to hold it forward during the night. The whole device then fits comfortably between the lips and teeth, resulting in a more natural jaw position.
The suction holds your tongue in a forward position during sleep, stopping it from collapsing into your throat and blocking your airway.
The Good Morning Snore Solution is not hard to attach to the tongue. Just squeeze the bulb and touch it lightly on the end of your tongue. The bulb creates suction as you release.
Wearing the Good Morning Snore Solution for the first time might feel a little strange, so you may have to experiment to get the suction level just right. Too tight and you may find yourself with a sore tongue the following day, too loose, and you risk it falling off during the night.
Who can use a Good Morning Snore Solution?
Unlike a MAD, the Good Morning Snore Solution can be worn by most people, including those with bridges, caps, dentures, weak, or even loose teeth. It can also be purchased without a prescription. As it is made from soft, BPA-free plastic, it does not need to be fitted by your dentist. You can purchase it confidently, knowing it fits most people. It is available in two sizes. 
The Good Morning Snore Solution is also perfect for people who cannot get accustomed to sleeping with a full mouth every night. Unlike a MAD, which looks and feels somewhat like a sports mouthguard, this device sits almost entirely outside the mouth for a less intrusive and more comfortable experience.
Who can't use a Good Morning Snore Solution?
The Good Morning Snore Solution requires you to breathe through your nose while sleeping. Therefore, if you have any difficulties breathing through your nose, including medical issues, previous injuries, or a cold or allergies, this device may be unsuitable.
Using the device for the first time
Place the device in your mouth between your lips and front teeth. Squeeze the tips to suck the air out of it. Then place your tongue in the tip. The suction keeps your tongue in place.
The device may fall off for the first couple of nights, but you should get used to it pretty it is more comfortable than other TRDs that typically apply suction to the entire tongue.
After trying numerous devices over the years, we honestly did not feel this would work, but after just one night, we woke up full of energy and feeling completely rested.
You may have to adjust the suction if you find your tongue is a little sensitive and sore the following morning. If it is too tight suck less air out of the bulb before placing your tongue inside the device. If it is too loose, try adding a small drop of olive oil to the inside of the bulb to help with the suction.
As with many other people, we found the device started to work immediately.
Pros and Cons
Pros
Designed by a dentist, so you know it does not damage your teeth, jaw, or gums.
Minimally invasive snoring solution. Focuses only on the tip of the tongue for a more comfortable fit.
It has a universal fit and comes in two convenient sizes.
Minor side effects such as drooling or sore tongue that subside with continued use.
The Good Morning Snore Solution is BPA-free.
Purchase is 100% safe as you receive a full 30-day money-back guarantee.
The simple design makes it easy to clean.
Long lasting when all cleaning instructions are followed.
Due to the soft material used, simple design and not filling the whole mouth, the Good Morning Snore Solution is comfortable to wear.
Approved by the United States Food and Drug Administration, the Australian Department of Health and Ageing, and cleared by the Canadian Therapeutic Products Doctorate.
Cons
Though infrequent, the device can slip off your tongue if not properly
Finding the right suction level for you may lead to tongue soreness in the beginning, though this should settle down within five to seven days as you learn how best to use the device.
Slightly higher price than other options available, though the longer lifespan offsets this.
This device is unsuitable if you are unable to breathe through your nose.
How to care for your Good Morning Snore Solution?
Cold water and a certified cleaning solution are all that are required to keep your Good Morning Snore Solution in tip-top condition. A certified cleaning solution includes any product suitable for use with dentures or mouthguards. You can even use a diluted mix of toothpaste to clean it after each use.
Always use cold water, as using hot water can damage the mouthpiece and reduce the lifespan of your device.
After use, soak the mouthpiece in cold water and your chosen certified cleaning solution, rinse and then leave to air dry. If you follow these simple steps, the device can outlast many other devices on the market. The average lifespan of the Good Morning Snore Solution is around one year, although many people have reported they continue to use theirs for much longer than this.
Cost
The cost of the Good Morning Snore Solution is a little higher than some other choices, but if you purchase two at the same time, the price is easily comparable with other available devices. The two pack is a great idea if you have more than one snorer in the household or you just want to have a spare.
The GMSS comes with a carrying case. You can get a pack of two for only $30 more. It also comes in two sizes: standard and young adult. Shipping is extra. Standard shipping costs around $10, or you can choose express delivery for approximately $30.
There is absolutely no risk on your purchase, as Good Morning Snore Solution offers a full 30-day money-back guarantee. If you have tried it and decide it doesn't quite work for you, you only need to request a return authorization number. On receipt of the authorization number, you have 15 more days before you need to return the product to the company.
The final verdict
We are very happy with the unique design and effectiveness of this little device. It is small, comfortable, and doesn't result in a drool-stained pillow. We have noticed a reduction in our snoring, and once the correct suction level was established, we experienced no more sore tongues.
Our reduced snoring has resulted in more restful sleep, higher levels of daytime energy and alertness, and a happier household. We have continued to use this product since testing it. If you are looking for an effective, safe, and comfortable snoring device, we highly recommend the Good Morning Snore Solution for the average snorer.  
Good Morning Snore Solution Product Videos & Testimonials:
Stop Snoring, Start Living – Good Morning Snore Solution
Will Good Morning Snore Solution Work for You?
Good Morning Snore Solution Review – Joel Harder
Good Morning Snore Solution Best Features: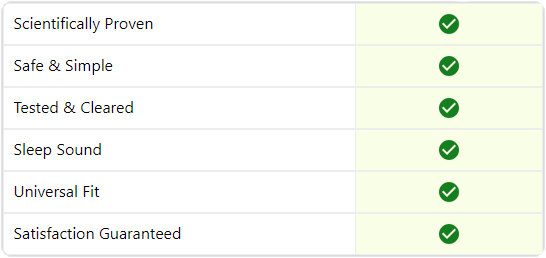 COUPONS AVAILABLE
Good Morning Snore Solution has a 15% COUPON CODE available:   SNOREDEVICES
Use Good Morning Snore Solution Code
Good Morning Snore Solution
About SnoreRx – Best Snoring Mouthpiece
Stop Snoring, Start Living – Good Morning Snore Solution
How the ZQuiet Mouthpiece Works
Our advisors have thoroughly tested over 40 anti-snoring products, and gathered over 100,000 customer reviews. This website features our top recommendations, with products offering various approaches to solving snoring issues, at a range of prices. All products are:
Effective at Snoring prevention
FDA Approved & Safe to use
Provide 100% Satisfaction Guarantees
Have Great Customer Satisfaction Scores